Follow @RedefinedRugby

New Zealand completed a golden month of rugby sevens with a scintillating display of power and precision to beat series leaders Australia 46-0 to successfully defend their HSBC Canada Women's Sevens title.
The HSBC World Rugby Women's Sevens Series 2018 title race is set for an enthralling conclusion in Paris next month after New Zealand produced 14 minutes of sublime sevens to beat Australia 46-0 in the final of the HSBC Canada Women's Sevens in Langford on Sunday.
The Black Ferns Sevens were simply untouchable in the final. They starved series leaders Australia of possession and met any attack they tried to put together with an impenetrable black wall in defence, while with ball in hand they were mesmerising and clinical, turning virtually every foray into Australia's half in points.
It was the 13th time the most dominant teams in series history had met in a Cup final and it was a complete reverse of their last. Australia that day ran out 31-0 winners in Sydney, the first time New Zealand had failed to score a single point in a match. This time it was New Zealand's turn to shut out their opponents and record their highest score against Australia by some margin.
HSBC Player of the Final Portia Woodman opened the scoring after some good work by Ruby Tui, who then found herself in space out wide after some nice running lines by her team-mates. A third try swiftly followed when Tui slipped one tackle then earned a penalty for a high tackle. Kelly Brazier reacted quickly, taking the tap and giving Australia no chance to stop her from close range.
Australia were stunned and it got worse on the stroke of half-time when Woodman hurdled an attempted tap-tackle and raced down the touchline to make it 22-0 at half-time.
There was no respite for Australia in the second half with New Zealand picking up where they left off with two tries for Niall Williams, the second from a switch pass from Brazier, before captain Sarah Goss barged through Georgina Friedrichs for try number seven.
Australia were then caught cold on their own line, not retaining the ball after a tackle from Brazier who quickly jumped to her feet, spotted the ball was out and nipped in to pick it up and ground the ball for the eighth and final try at Westhills Stadium.
"Really proud of the girls, we put in a lot of effort. We've been on the road for a long time so we are really stoked with the result and happy to be heading back for some recovery. Credit to Australia as they are an amazing team. We love playing them and it just shows how amazing women's rugby is at the moment," said Goss afterwards.
Her Australian counterpart Shannon Parry paid tribute to New Zealand after the final: "It was a very difficult loss but in saying that the kiwis were clinical today and we gave them way too much possession and that's what they do. They are a quality team and they showed that out there today. For us it was a pretty good tournament for us besides the final, we earned our spot in the final and we played some really good footy.
"It makes it hot property when we return to Paris in a couple of weeks time, so we are really looking forward to that. It's going to be a hotly contested tournament, it's the final hit out before the World Cup at the end of July."
New Zealand's victory caps a remarkable month that has yielded gold medals in the Commonwealth Games, Kitakyushu and now Langford. They now trail Australia (74) by four points in the standings with one round to go. France's fourth place finish means they sit third on 54 points ahead of Canada and USA on 44 and Russia a point behind the North Americans.
USA WIN BRONZE
USA finished strongly to claim the bronze medal with a 21-5 victory over Kitakyushu runners-up France. Les Bleues had scored first after some quick work from Camille Grassineau at the breakdown led to a try for Caroline Drouin. The score looked set to stay at 5-0 until, on the stroke of half-time, Naya Tapper stepped round her defender and raced away to send the USA into the huddle with a two-point lead. Some great work and strength from Alev Kelter created a try for Katherine Zackary and it was fitting left to the USA playmaker to then create one for herself at the death.
In the first semi-final, Australia left it late to deny France a first win in the head-to-head at the 18th attempt and a place in a second successive Cup final, tries from Emilee Cherry and then Evania Pelite sealing a 17-12 comeback. The first half had been a tight affair with the breakthrough coming after Montserrat Amédée was yellow-carded in the sixth minute, Emma Sykes throwing a dummy and stepping through the resulting gap to race away to score. France responded in the second half with tries from the outstanding Grassineau and Chloé Pelle, but couldn't hold on for an historic win.
The second pitted New Zealand against USA, one of only two nations to have beaten them on the series since the 2016 tournament in Langford. USA started the stronger, scoring early tries through Jordan Gray and Kelter to lead 10-0 before Michaela Blyde was afforded too much space and raced away to get the Black Ferns Sevens on the board. Brazier than left the defence wrong-footed with a sweet step and sprinted for the corner to make it 12-10 at half-time. The defending champions found their rhythm after the break and tries by captain Goss, Blyde and Woodman, her 23rd try in series history against USA.
Earlier in the day, France restricted Ireland to very little ball and kept them pinned inside their own half for much of the first Cup quarter-final with some resolute defence. Their attack was equally impressive with Grassineau scoring two of their five tries in a 27-0 victory, many of which came out wide to mean Amédée was only able to convert her own try at the final whistle.
Australia had met Fiji at the same stage in the previous round in Kitakyushu and the outcome was the same with the series leaders running out 21-5 winners in a hugely physical battle. Emma Tonegato scored the opening try out wide and then threw a pass which Cherry collected on the bounce to coast over under the posts on the stroke of half-time. Fiji did cut the deficit when Ana Maria Naimasi rounded off a length of the pitch try that featured some spectacular offloading and power, but Tonegato wrapped up the Australian win with her second try.
The third Cup quarter-final was a battle for North American pride that as only decided with the final kick and the clock in red. USA had made the perfect start in an electric atmosphere with Gray and Kelter giving them a 14-0 lead before Canada recovered to trail 21-12 at half-time. Bianca Farella raced away to score two tries in quick succession and looked to have won it for the home side, but captain Ghislaine Landry failed to send the restart 10 metres and USA made them pay when Tapper outpaced her marker to tie the scores and allow Kelter to slot the conversion for a 28-26 win –  only their second in 17 series meetings between the sides.
The last quarter-final was a repeat of a Pool A match on day one and again New Zealand ran out winners, albeit only 17-12 after a much closer battle with England. Woodman scored a hat-trick of similar tries, the New Zealand flyer turning on the afterburners to round the defence and race away each time. England, beaten 22-0 on day one, had been tied at 12-12 – after tries by Alex Matthews and Deborah Fleming – before Woodman completed her hat-trick.
CANADA FINISH FIFTH
A hat-trick from Farella ensured the home fans went home happy after Canada beat Ireland 29-12 to finish fifth. There were only seconds on the clock when she ran in her first try with Hannah Darling adding a second soon after. Audrey O'Flynn did cross for Ireland but Farella was in scintillating form on Sunday and raced home from distance twice more before Charity Williams also showed Canada's fans that long-range tries are her forte as well.
Fiji had beaten England on day one, but their opponents gained revenge in a seventh place play-off featuring nine tries. A Vicky Fleetwood brace helped England to a 17-7 lead at half-time and there was no way back for Fiji with Emily Scott and Lydia Thompson touching down to seal the 29-24 victory and equal their best placing of the 2018 series.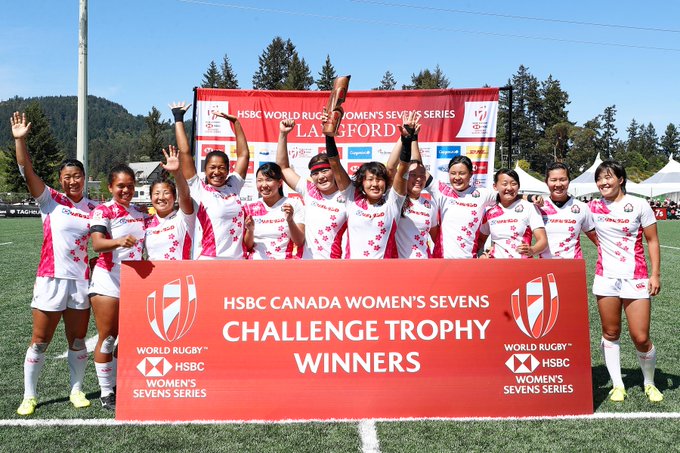 Canada bounced back from the devastating loss to USA in the quarter-finals with a try-fest against England in the fifth place semi-final, scoring a number of long-range tries that had the home crowd on their feet. Farella was a constant thorn in England's side, making a number of breaks, one which led to a try for Sara Kaljuvee and two for herself in the 35-12 victory.
Ireland had earlier capitalised on an ill-disciplined performance from Fiji that saw them receive two yellow cards and a red – the latter for Miriama Naiobasali. Louise Galvin gave Ireland the lead before Raijieli Daveua tied the scores. However, O'Flynn and Stacey Flood both touched down to wrap up the 19-7 victory for Ireland.
JAPAN WIN CHALLENGE TROPHY 
Japan created a piece of history in winning the Challenge Trophy, their 26-21 victory over Spain meaning they finish a series event with three wins to their names. Tries by Iera Echebarria and Uri Barrutieta looked to have Spain in control at 14-7, but a brace from captain Chiharu Nakamura saw Japan the front for the first time. Echebarria grabbed a second to tie things up once more, but there was to be one final twist with Tomomi Kozasa scoring the winning try with time almost up.
Brazil staged a truly remarkable comeback to beat Russia 24-19 in the 11th place play-off. Russia had led 19-0 but Brazil came roaring back with an Amanda Araujo brace and Raquel Kockhann try to force sudden-death extra-time. They then pounced when Russia turned over ball and they worked the ball to Bianca Silva to race under the posts to huge cheers.
The semi-final between Japan and Brazil was an end-to-end affair with tit-for-tat scoring. Brazil looked on course for victory when Silva scored her second try to make it 21-17, but the Sakura Sevens finished with a flourish as tries by Yume Okuroda and Raichielmiyo Bativakalolo secured a 31-21 win that guaranteed their best result of the season.
Russia, missing many of their top names, scored first in the second semi-final against Spain when Iana Danilova raced away, but two tries by captain Barbara Pla ultimately saw Las Leonas into the final.
The final round of the 2018 series takes place in Paris, France, on 8-10 June, where Wales will join the 11 core teams as the invitational side.
---
–

–